When it comes to WordPress SEO plugins, Rank Math Pro is a standout choice. In this comprehensive guide, we'll delve into the world of Rank Math Pro, exploring its features, benefits, and how it can help you achieve top-notch SEO for your website with Rank Math pro SEO Plugin.
What is Rank Math?
Rank Math is more than just your average WordPress SEO plugin for Bloggers; it's a powerful tool that empowers WordPress users to optimize their content with ease. Built-in suggestions, based on widely-accepted best practices, make it accessible to SEO novices and experts alike. With Rank Math, you can customize crucial SEO settings and have control over how your website appears in search engine results pages (SERPs) using structured data for SEO.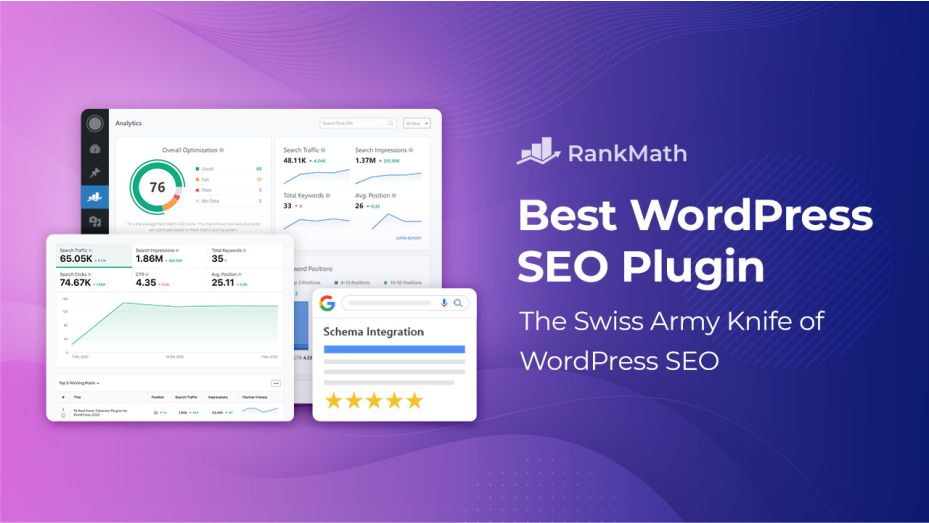 The Versatility of Rank Math Pro
Rank Math offers a plethora of built-in modules, allowing you to tailor your SEO strategy to your website's specific needs. Whether you're running a blog, e-commerce site, E-commerce SEO with Rank Math, or corporate website, Rank Math has you covered.
Here's a glimpse of what you can achieve with Rank Math Pro:
Keyword Ranking: Keep a close eye on your keyword rankings to measure your SEO success. Rank Math simplifies this process.
Comprehensive SEO Analysis Tool: Identify and rectify SEO issues with ease using Rank Math's in-depth analysis based on 30 crucial factors.
Smooth Migration: Switching from another SEO plugin? No problem! Rank Math offers one-click imports to make the transition seamless.
Editor Compatibility: Whether you prefer the Gutenberg or Classic Editor, Rank Math plays well with both.
Rich Snippets: Gain a competitive edge by winning rich snippets in SERPs. Rank Math supports over 20 schema types like Schema markup for FAQs, including FAQs and HowTo.
A User-Friendly Setup Wizard
One of the standout Rank Math Pro features is its user-friendly setup wizard. Setting up SEO for WordPress has never been this effortless. Here's why the setup wizard is a game-changer:
Quick Start: Rank Math practically configures itself, making it accessible to users of all levels. The step-by-step wizard checks your site's settings and recommends optimal configurations.
Efficiency: The wizard not only sets up your site's SEO but also takes care of your social profiles, webmaster profiles, and other vital SEO settings.
Clean and Intuitive User Interface
Rank Math's user interface is designed to maximize your productivity. The straightforward, yet powerful UI presents essential information alongside your posts, allowing you to enhance your SEO instantly. Some key UI benefits include:
Timely Insights: Rank Math presents relevant information when you need it most. This information empowers you to improve your post's SEO on the spot.
Advanced Snippet Previews: Visualize how your post will appear in SERPs, preview rich snippets, and even see how your post will look on social media platforms.
In conclusion, Rank Math Pro is a versatile and user-friendly SEO plugin for WordPress that can elevate your website's SEO game. Whether you're a beginner or an SEO expert, its rich features, easy setup, and intuitive interface make it a valuable addition to your website optimization toolkit.
Built With Performance In Mind
We take performance seriously and have many years of experience creating programs specifically for WordPress websites.
Continuously improving the performance of our plugin and making sure that new features don't affect this so that it can be as quick as it can be is our main goal.
Fully Easy Setup Wizard
Rank Math configures itself functionally. Rank Math has a step-by-step installation and configuration wizard that effortlessly configures SEO for WordPress and SEO for beginners.
Rank Math verifies the settings of your site upon installation and recommends the optimal settings for the best results. Then the step-by-step wizard sets up SEO, social profiles, webmaster profiles, and other SEO settings for your site.
Clean, Simple & Professional UI
This Rank Math Pro – WordPress SEO Made Easy 3.0.25 + v1.0.103.1. is built at the right time to present you with the correct details. Alongside the post itself, the quick, but powerful user interface highlights important details about your articles. You can enhance the SEO of your post instantaneously using this knowledge.
Rank Math features advanced previews of snippets as well. When posted on social media, you can preview how your post will appear in the SERPs, preview rich snippets, and even preview how your post will look.
Clean, & Simple User Interface
Rank Math was designed to provide the correct data to the user at just the correct moment. The easy, yet powerful interface highlights the most important details regarding your blog posts, in addition to the content itself. By using these details, it is possible to increase the SEO of your blog post instantly.
Rank Math also offers advanced previews of snippets. You can see how your article will appear in the SERPs, view rich snippets of text, and even see how your post will appear when it is posted via social media.
Industry-Leading Support
We care for our own. You'll never be left in the dust using Rank Math. We have an unbeatable speed of turnaround times for help inquiries and can resolve issues more efficiently and speedily. We offer support as if we asked for it. Our team is on hand around all hours to provide assistance.
FAQs About Rank Math Pro
Q1. What is the difference between Rank Math Free and Rank Math Pro? Rank Math Free offers essential SEO features, while Rank Math Pro provides advanced tools such as rank tracking for WordPress, rich snippets in Serps for more schema types, and access to premium support.
Q2. Can I switch to Rank Math Pro from another SEO plugin? Yes, Rank Math Pro makes migration seamless with its one-click import feature, allowing you to switch from other SEO plugins effortlessly.
Q3. Is Rank Math Pro suitable for e-commerce websites? Absolutely! Rank Math Pro is versatile and can be customized to suit various website types, including e-commerce platforms.
Q4. Does Rank Math Pro offer support for structured data like FAQs and HowTo? Yes, Rank Math Pro supports over 20 schema types, including FAQs and HowTo, helping you win rich snippets in SERPs.
Q5. Is there a money-back guarantee for Rank Math Pro? Yes, Rank Math Pro offers a 30-day money-back guarantee, ensuring your satisfaction with the product.
Q6. Can I get help with Rank Math Pro if I encounter any issues? Certainly! Rank Math Pro offers premium support to assist you with any questions or concerns you may have.
Explore the full potential of Rank Math Pro and take your WordPress website's SEO to new heights.