Are you looking to build a stunning WordPress or WooCommerce website effortlessly? Look no further than Avada Website Builder, the leading Website Builder that has consistently held the top spot in the market for over a decade. In this comprehensive guide, we'll delve into the world of Avada Website Builder and explore why it's the go-to choice for more than 875,000 beginners, professionals, agencies, businesses, and creatives.
Avada website builder: Your Path to Design Freedom
Avada WordPress Website Builder has earned its reputation as the most versatile, intuitive, and user-friendly multi-purpose WordPress theme. With over 10 years of continuous refinement and user feedback, the Avada Multi-Purpose WordPress Theme empowers you to create exceptional websites without touching a single line of code.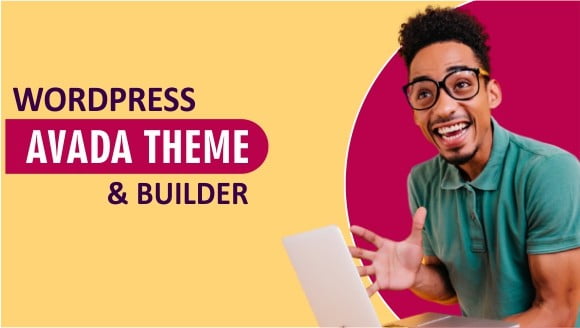 A Toolbox for Web Designers
Avada WordPress theme Advanced Options Network, coupled with its Drag & Drop visual editor, Header Builder, Layout Builder, and Footer Builder, makes it the ultimate website design toolkit for your workflow. This means you can work efficiently and produce unlimited designs and layouts for your website projects, without any technical hurdles.
Here is another best choice for you Unlock the Power of Jannah Newspaper WordPress Theme for Your Website
Commitment to Excellence
What sets Website Design with Avada apart is its commitment to excellence. It offers endless design possibilities, world-class professional Avada Theme support, and value-packed theme updates. Avada is meticulously crafted to stay ahead of the curve, adhering to strict WordPress, PHP, and accessibility standards.
Community-Backed Success
With over 23,000+ average 5-star reviews spanning more than 7+ years, Avada enjoys an immensely loyal user base. Its customer-centric approach and continuous improvement underscore the importance of building long-term relationships.
Key Features of Avada (Avada Theme Features)
Let's explore some of Avada's remarkable features that have contributed to its success:
1. Intuitive Visual Design Tools
Avada provides powerful visual front-end design and editing tools for quick web development tool.
2. Multi-Purpose Designs
Its clean and modern designs can be adapted for various websites, ensuring flexibility.
3. Long-Standing Market Leader
Avada website builder has been the #1 selling WordPress theme for over 7 years and counting.
4. Advanced Customization
Avada offers an advanced network of options for easy customizations without code modifications.
5. Professionally Designed Demos
Choose from dozens of professionally designed demos that can be imported with a single click.
6. Seamless Compatibility
Avada remains compatible with the latest WordPress versions and 3rd party plugins like Yoast SEO.
7. Performance Optimization
Built with HTML5 and CSS3, the Avada website builder is 100% SEO optimized (WordPress SEO Optimization), offering fast, reliable, and quality websites.
8. Responsive Web Design
Avada ensures a responsive theme with pixel-perfect accuracy, and you can disable responsiveness if needed.
9. Fusion Builder
Utilize the intuitive Fusion Builder visual editor, known for being the best visual page builder in the market.
10. Full Control
Avada website builder provides full control over site width, content areas, sidebars, and more.
11. Cross-Browser Compatibility
It offers cross-browser compatibility with major browsers like Firefox, Safari, Chrome, and more.
12. Retina Ready
Avada supports ultra-high-resolution graphics and uses CSS Font Icons for social and theme icons.
13. Automatic Updates
Easily update your theme directly through the WordPress Admin interface with the Automatic Patch tool.
14. WooCommerce Integration
Avada seamlessly integrates with WooCommerce Integration, making it an ideal choice for e-commerce websites.
15. Extensive Plugin Support
It's compatible with popular plugins like WPML, Gravity Forms, Slider Revolution, and more.
16. Exceptional Customer Support
Avada takes pride in offering outstanding after-sales support with an extensive knowledge base.
17. Comprehensive Avada Documentation
Access an ever-growing knowledge base and multiple HD video tutorials for easy instruction.
Amazing Demo Importer
Avada's demo importer is an industry-leading feature that makes website creation a breeze. With one-click demo imports, you can install a full demo or just specific parts of it. This flexibility allows you to tailor your website exactly to your needs.
Advanced Theme Options
Avada offers extensive theme options, including over 50 main and sub-theme panels loaded with powerful WordPress Theme customization options. These options make it easy to personalize your website without diving into code.
Fusion Page/Post Options
Create unique and dynamic content-rich pages and posts with Fusion Page/Post Options. You can override global theme options to achieve precisely the look and functionality you desire.
Theme Updates That Matter
Avada website builder doesn't just rest on its laurels; it continually releases value-packed feature updates based on user feedback and evolving industry demands. The best part? Every update is free for licensed users.
Premium Slider Options
Avada includes multiple premium slider options, such as the Amazing Revolution Slider Plugin and the Parallax Layer Slider Plugin, allowing you to create captivating, responsive sliders for your website.
Fusion Builder Live
The Fusion Builder Live visual page builder is not only the most intuitive on the market but also produces outstanding results. Its Drag & Drop Website Builder interface and over 60 design elements (Avada Builder Elements) make page building a breeze.
Fusion Mega Menu
Take your menus to the next level with Fusion Mega Menu. Create large, stylish menus that are widget-ready and customizable. Choose from various layouts, add maps, images, and forms to your menu.
WooCommerce Compatibility
Avada is fully compatible with WooCommerce, making it ideal for e-commerce websites. Its intuitive theme options panel offers extensive customization for an enhanced shopping experience.
Popular Plugin Integration
Enjoy seamless integration with popular plugins like The Events Calendar, bbPress, WPML, Gravity Forms, and Contact Form 7. Avada works seamlessly with these tools to enhance your website's functionality.
Unlimited Color & Styling Options
With Avada, you have complete control over the colors and styles on your website. Choose from unlimited color options and skins, or create your custom look.
Advanced Portfolio Layout Options
Avada offers three layout options for portfolios: Grid, Masonry, and Classic Text. Customize portfolio pages, categories, and individual posts to showcase your work beautifully.
Advanced Blog Layout Options
For bloggers, Avada provides six layout options, including grid, masonry, timeline, large, large alternate, medium, and medium alternate. These layouts come with extensive customization options.
Custom Page Templates & Page Options
Personalize your pages effortlessly with Avada's custom page templates and page options. Choose from various templates and customize each page to match your vision.
Advanced Responsive Image Management
Avada ensures optimal image sizes and performance enhancements with its custom responsive image setup, improving website speed and user experience.
Multi-Lingual/RTL Ready
Avada website builder is translation-ready and includes .po and .mo files. It supports 30+ languages, making it accessible to a global audience.
Advanced Typography Options
Take control of your website's typography with Avada's advanced typography options. Choose from Google Fonts, and standard fonts, or upload your custom fonts.
Advanced Background Options
Avada offers unlimited background options for boxed and wide layouts, allowing you to set custom backgrounds for different pages or posts.
Header Options
Select from seven header layouts, including mobile header layout options. Avada's headers can be positioned at the top, left, or right, and you can customize their appearance and functionality.
Page Title Bar
Enable or disable the page title bar globally or per page/post, with options to set height, background image, and more.
Footer Options
Customize your website's footer with options for background images, columns, back-to-top buttons, copyright bars, and social icons.
Form Plugin Options
Avada includes built-in styles for popular form plugins like Contact Form 7 and Gravity Forms. It also comes with a built-in contact form with ReCaptcha Spam Protection and Google Maps integration.
Unlimited Single or Dual Sidebars
Create custom sidebars for different sections of your website, and use single or dual sidebars on any page or post.
Custom Widgets
Avada includes beautifully designed custom widgets for Twitter, Flickr, Facebook, Recent Works, Contact Details, Advertising, Social Links, Layer Slider, and more.
Advanced Search Options
Enhance your website's search functionality with Avada's search icon in the main menu, search results customization, and more.
Side Navigation Page
Avada offers a unique side navigation page with parent/child levels. You can choose to trigger submenus on hover or click, making navigation intuitive for your visitors.
In conclusion, Avada is not just a theme; it's a complete web design solution. Its unmatched features, ease of use, and commitment to excellence have made it the #1 choice for website builders worldwide. Whether you're a beginner, a professional, or an agency, Avada empowers you to create beautiful and functional websites that stand out from the crowd.
Ready to experience the Avada difference? Join the ever-growing community of Avada users and take your web design projects to the next level. Say goodbye to coding hassles and hello to design freedom with Avada!
FAQs
Q1: Is Avada Website Builder suitable for e-commerce websites?
A1: Absolutely! Avada seamlessly integrates with WooCommerce, offering extensive customization options for creating stunning online stores.
Q2: Can I import specific parts of a demo, or is it an all-or-nothing deal?
A2: Avada demo import allows you to choose which parts of a demo you want to import, giving you full control over your website's look and feel.
Q3: Does the Avada theme offer support for multiple languages?
A3: Yes, Avada is translation-ready and supports multiple languages, making it an excellent choice for global audiences.
Q4: How often does Avada Builder release updates, and are they free?
A4: Avada releases regular updates based on user feedback and industry demands, and yes, these updates are free for licensed users.
Q5: Is Avada suitable for beginners with no coding experience?
A5: Absolutely! Avada's intuitive visual editor and user-friendly interface make it suitable for beginners and professionals alike.
Conclusion
Avada isn't just a WordPress theme; it's a complete web design solution that empowers users of all backgrounds and expertise levels to create stunning, functional websites with ease. With over 875,000 satisfied users and a track record of being the #1 WordPress Website Builder for over a decade, Avada has proven itself as the go-to choice for web designers, agencies, businesses, and creatives.
Avada's key features, such as its intuitive visual design tools, multi-purpose designs, and advanced customization options, make it a versatile and powerful tool in the world of web design. Its commitment to excellence, exceptional customer support, and regular, value-packed theme updates ensure that Avada Website Builder stays at the forefront of web design trends and technologies.