When it comes to creating a compelling and functional website, the choice of a WordPress theme plays a crucial role. One such theme that has garnered attention for its impressive features is the Jannah Newspaper WordPress Theme. In this article, we will delve into the world of Jannah and explore how it can transform your website into a powerful online presence.
What is Jannah Newspaper WordPress Theme?
Jannah is not just another WordPress theme; it is a comprehensive solution for online publishers, magazines, news websites, and more. Developed by the experienced web design company, TieLabs, Jannah offers a wide range of features that can elevate your website to new heights.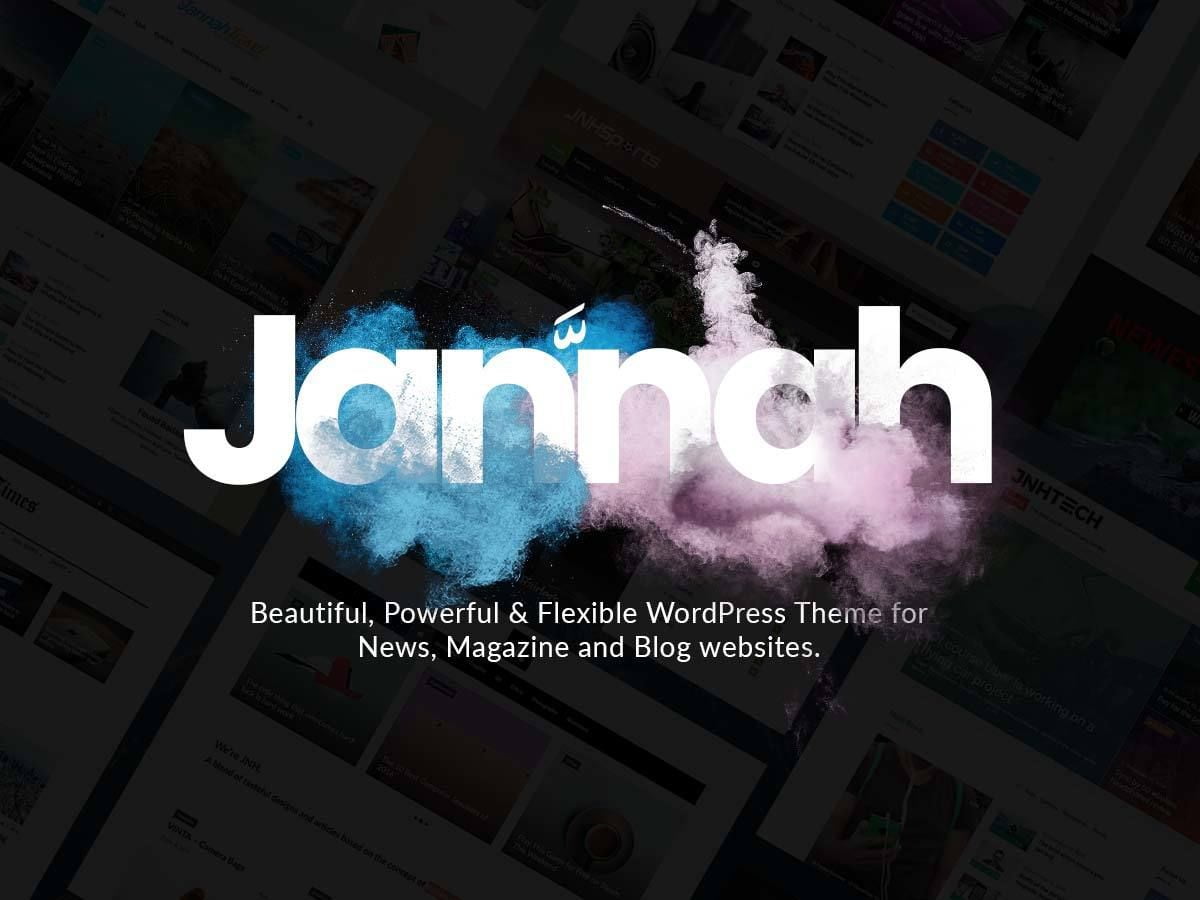 Why Choose Jannah WordPress theme?
1. Real-World Features
Jannah brings real-world features to your website. One such feature is the 'Select & Share' option, which allows users to easily share content they find interesting. Additionally, it provides native GIF support, enhancing the visual appeal of your content. Web-based Push Notifications keep your audience engaged and informed.
2. Mobile Navigation
In today's digital landscape, mobile-friendliness is non-negotiable. Jannah boasts a fully responsive design that adapts seamlessly to modern devices, including the latest mobile technologies. Intelligent menu features ensure that users have an optimal browsing experience on any device.
3. Accelerated Mobile Pages (AMP)
Jannah is fully compatible with the Accelerated Mobile Pages (AMP) Project, ensuring that your content loads quickly on mobile devices. Fast-loading pages are not only user-friendly but also contribute to better search engine rankings.
Benefits of the Jannah WordPress Theme
The Jannah WordPress theme offers a number of benefits, including:
It is easy to use and customize.
It is highly responsive and mobile-friendly.
It is SEO-optimized and AMP compatible.
It is fast and performant.
It is packed with features, including pre-made demos, unlimited header styles, and a built-in page builder.
It comes with excellent support from the developers.
SEO Optimization
For those serious about SEO, Jannah has you covered. It incorporates Articles and Reviews Schema to enhance snippet views for longer articles. The theme is optimized for popular SEO plugins like Yoast SEO and Rank Math, helping you boost your website's visibility on search engines. Additionally, it supports SEO Rich Snippets for add-ons such as Reviews, Ratings, and Photos.
High Performance
Website speed is a critical factor for user satisfaction and SEO. Jannah excels in this aspect with features like Lazy Load for images, minified CSS and JavaScript resources, built-in caching, and compatibility with popular cache plugins like WP Super Cache.
bbPress Integration
For those looking to add a community forum to their website, Jannah seamlessly integrates with bbPress, the industry-standard forum software for WordPress. You can easily set up and manage discussion forums within your WordPress site.
Customization Options
Jannah offers an extensive range of customization options:
Pre-Skinned Demos: Choose from a variety of skins, including Light and Dark themes, to match your website's style.
Font Options: Access over 800 Google Fonts and 150+ FontFace.me fonts to find the perfect typography for your site.
Custom Layouts: Jannah supports various layout options, from bordered and fullwidth to masonry and one-column layouts.
Jump-To Contents: Enhance navigation by adding hotspots to your content for users to jump to specific sections.
Ajax Mega Menus: Create dynamic and engaging menus to improve user navigation.
Mobile Navigation: Customize the mobile navigation to match your website's branding.
Select and Share
One of Jannah's standout features is 'Select and Share.' This feature empowers users to highlight and share specific content easily. Jannah recognizes selected text as shareable and provides a pop-up model for users to share it on their social media platforms.
Email Marketing Integration
Building an email distribution list is essential for digital marketing success. Jannah integrates seamlessly with industry-standard tools like MailChimp and Feedburner, making it easier to capture leads and connect with your audience.
Parallax Effects & Video Backgrounds
Engage your visitors with parallax effects and video backgrounds. These interactive elements add depth and vibrancy to your website, keeping users engaged and motivated to explore further.
One-Click Import with Demo Content
Jannah simplifies the setup process with over 20 ready-to-use demo builds. Choose a demo that aligns with your website's goals, import it with a single click, and customize it to your liking. Updating your content is a breeze.
Monetization Opportunities
Jannah recognizes the importance of monetization for content creators. It offers dedicated spaces for advertisements, making it easy to monetize your site. Whether you're partnering with affiliates or using AdSense, Jannah's ad-ready layout has you covered.
BuddyPress Integration
For a social networking community integrated seamlessly with your website, Jannah offers BuddyPress design. With notifications and a cohesive design, your users will enjoy a real-time social experience.
Translation Ready
Jannah is fully prepared for translation to any language, thanks to PO & mo files. It also supports WPML Multilingual Plugin, allowing you to create multilingual websites effortlessly.
Drawbacks of the Jannah WordPress Theme
One of the few drawbacks of the Jannah WordPress theme is that it can be expensive to purchase. However, it is important to note that the Jannah WordPress theme is a premium theme that comes with a wide range of features and benefits.
Jannah Theme Customization
Jannah is a WordPress theme built specifically for Muslim users. It has an intuitive and modern design, perfect for any website related to Islam.
The theme comes with customizable menus, headers, and footers, as well as a wide range of custom widgets and shortcodes that make creating stunning websites easy. There are also tons of options to customize the look and feel of your site, including typography, colors, and layout.
Overall, Jannah is an excellent choice for anyone looking to create a professional-looking Islamic website without having to learn to code or use complicated themes.
How to Install Jannah WordPress Theme
Conclusion
In conclusion, the Jannah Newspaper WordPress Theme is a powerhouse for website creators and online publishers. Its impressive range of features, including responsive design, SEO optimization, customization options, and seamless integration with various plugins, makes it an excellent choice for those looking to build a successful online presence.
If you want your website to stand out and deliver an exceptional user experience, consider harnessing the power of Jannah. With its user-friendly features and robust capabilities, Jannah is more than just a theme; it's a game-changer for your website.
So why wait? Unlock the potential of your website with the Jannah Newspaper WordPress Theme today.