Are you searching for a seamless solution to create forms and surveys on your WordPress website? Look no further! WPForms Pro WordPress Plugin is here to make your form-building experience a breeze.
Introduction
WPForms Pro WordPress Plugin is the go-to choice for over 6,000,000 professionals when it comes to building smarter forms and surveys. In this comprehensive guide, we'll delve into what makes WPForms Pro the best WordPress contact form plugin on the market. Get ready to explore its features, functionalities, and how it can simplify your form-building process.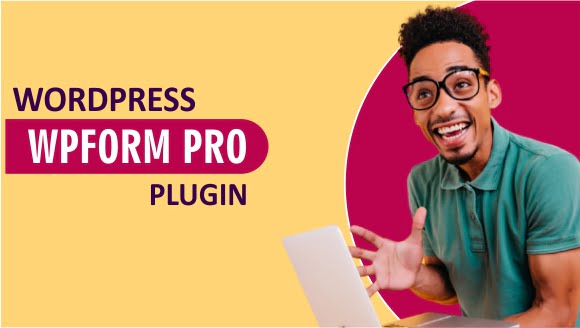 Why WPForms Pro WordPress Plugin?
Top 4 Reasons Why People Love WPForms
WPForms is the perfect WordPress form solution for YOU. Here's why over 6,000,000+ smart business owners, designers, and developers love WPForms, and you will too!
Drag & Drop WordPress Form Builder
Say goodbye to coding hassles! With WPForms Pro, you can effortlessly create stunning forms in just a few minutes. Our intuitive drag-and-drop form builder lets you design forms with ease. Whether you're tech-savvy or a beginner, WPForms Pro is tailored to your needs. Do you know about Why Elementor Pro is the Best Page Builder for WordPress Websites
Form Templates
Starting from scratch can be time-consuming. That's why WPForms Pro offers a range of pre-built form templates. These templates are designed to save you even more time while maintaining a professional look. Choose a template, customize it to your liking, and watch your form come to life.
Smarter Workflows that make Complex Forms Easy
While our WordPress form builder is very easy to use, we created smart workflows to save you even more time.
WPForms comes with pre-built WordPress form templates that can be easily customized, so you don't ever have to start from scratch unless you want to.
Responsive Mobile Friendly
In today's digital age, your forms need to look and work flawlessly on all devices. WPForms Pro ensures 100% responsiveness, making it compatible with mobile phones, tablets, and desktops. Your audience can interact with your forms seamlessly, no matter their preferred device.
Smart Conditional Logic
Want to create high-performance forms that adapt to user inputs? WPForms Pro has you covered with smart conditional logic. You can set up conditional rules that show or hide form fields based on user selections. This not only enhances the user experience but also provides you with valuable data.
Instant Notifications
Speed matters, especially when it comes to lead generation. WPForms Pro's instant form notification feature ensures that you and your team are alerted immediately when a user submits a form. This swift response can make all the difference in converting leads into customers.
Entry Management
Managing your leads should be effortless. WPForms Pro offers a convenient dashboard where you can view all your leads in one place. This streamlines your workflow, making it easier to track, manage, and follow up with potential customers.
Payments Made Easy
Monetize your website without the need for a developer. WPForms Pro allows you to collect payments, donations, and online orders seamlessly. Whether you're selling products, accepting donations, or offering services, our plugin makes it hassle-free.
Marketing & Subscriptions
Grow your email list and stay connected with your audience by creating subscription forms. WPForms Pro seamlessly integrates with your email marketing service, making it easier than ever to nurture leads and build lasting relationships.
Easy to Embed
Flexibility is key when it comes to placing your forms. WPForms Pro makes it a breeze to embed your forms anywhere on your website. Whether it's in blog posts, pages, sidebar widgets, or the footer, you have full control over where your forms appear.
Conclusion
In conclusion, WPForms Pro WordPress Plugin is your ultimate solution for building powerful and user-friendly forms and surveys. With its drag-and-drop builder, pre-built templates, responsiveness, conditional logic, instant notifications, lead management, payment collection, and marketing integrations, WPForms Pro has it all.
Join the 6,000,000+ professionals who trust WPForms Pro to simplify their form-building process. Don't miss out on the opportunity to enhance your website's user experience and streamline your lead generation efforts. Try WPForms Pro today and witness the transformation for yourself.
FAQs
Q1: Is WPForms Pro WordPress Plugin suitable for beginners?
A: Absolutely! WPForms Pro's intuitive drag-and-drop builder makes it easy for beginners to create forms without any coding knowledge.
Q2: Can I customize the pre-built form templates?
A: Yes, you can customize the templates to match your brand and requirements.
Q3: Is WPForms Pro compatible with mobile devices?
A: Yes, WPForms Pro is 100% responsive, ensuring compatibility with mobile phones, tablets, and desktops.
Q4: How can WPForms Pro benefit my business?
A: WPForms Pro helps streamline lead management, collect payments, and connect with your audience through email marketing integrations, ultimately boosting your business's efficiency and growth.
Remember, WPForms Pro WordPress Plugin is your ticket to building powerful and user-friendly forms. Get started today and experience the difference for yourself!